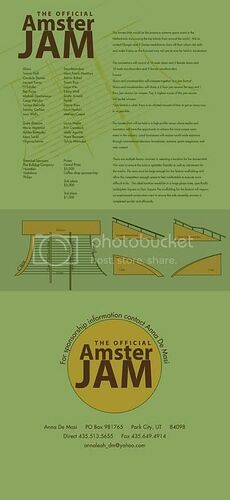 Invited riders to Amsterdam:
Mark Frank Montoya, Aaron Bitner, Travis Rice, Louis Vito, Eddie Wall, Scotty Arnold, Heikki Sorsa, Danny Kass, Lauri Heiskari en Mathieu Crepel.
The AmsterJAM would be the premiere extreme sports event in the
Netherlands showcastingthe top talents from around the world. We've invited Olympic and X-Games medalists to show off their urban rail skills and make history as the first and only rail jam to ever be held in Amsterdam.
The competitors will consist of 10 male skiers and 5 female skiers and 10 male snowboarders and 5 female snowboarders. Format.Skiers and snowboarders will compete together in a jam format*. Skiers and snowboarders will share a 2 hour jam session for men and 1 hour jam session for women. Top 3 highest scoresof the jam session will be the winnerrs.
*Jam format is when there is an allowed amount of time to get as amny runs in as possible.
The AmsterJAM will be held in a high profile venue where media and spectators will have oppurtinity to witness the most unique exposure through international television broadcasts, extreme sports magazines and web content.
There are multiple factors involved in selecting a location for the AmsterJAM. We want to ensure the area is spectator friendly as well as convienent for the media.The area must be large enough for the feature scoffolding and allow the competitors enough space to feel comfortable to execute more difficult tricks. The ideal location would be in a large plaza area, specifically leidseplein Square or Dam Square. The scoffolding for the feature will require an expierenced construction crew to ensure this safe assembly process is completed quickly and efficiently.